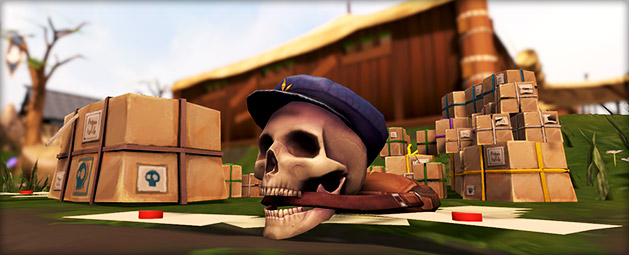 For the next 30 days, Postie Pete will be delivering a parcel straight to your inventory, ranging in size from small to huge. The bigger the parcel, the greater your reward!

These are gifts from the characters of Gielinor, from a shopkeepr to maybe even the Wise Old Man himself as a thank you for your hard work. Check the Parcel Rewards section for ideas of what you could win, including Postie Pete's own hat or even a ring to transform you into one of the Barrows brothers!

In addition, you can go about your daily XP hunt and find more parcels while doing so. As with your daily gift, these can come in bigger sizes with greater rewards. On opening each parcel, you will get a postage stamp, and ten of these can be exchanged with Postie Pete in Burthorpe for yet more parcels.

Not enough? Adventurers are always losing things, and Postie Pete has packages of lost property boxed up. After Postie Pete has delivered 5, 10, 15 or 20 parcels to you, you'll be able to claim the property.

Not able to log in from the 1st of May? Don't worry, you won't lose out: your 30 days of parcels starts from the first day you log in over May. So, if you're on holiday or have exams to revise for, you won't be missing any daily parcels.

Here's just some of the rewards you could get from Parcels:


Parcel Pete pet


Postie's Pete hat


Swag Bag


250m or 500m Coins


Barrows rings of transmog


Lost Property

Adventurers are always losing things, and Postie Pete has packages of lost property boxed up ready to be claimed. After Postie Pete has delivered numerous parcels to you during his delivery period, here's just some of the stuff you could get from his post office:


Aura Refreshes


Sign of life resets


A bag of Invention components


Instakill Darts


"Postie" title

Note: You'll have access to the post office until the end of June, at which point all mail items will be removed so make sure to finish using them all before then.
Mod Shauny - RuneScape Community Management - Goebies! - @JagexShauny
Check out upcoming Jmod in-game events!
26-Apr-2018 14:06:39 - Last edited on 30-Apr-2018 21:25:35 by Mod Shauny