<!>
June Caption Competition
This photo shows the one and only
Mod Captain
demonstrating his IRL woodcutting skill: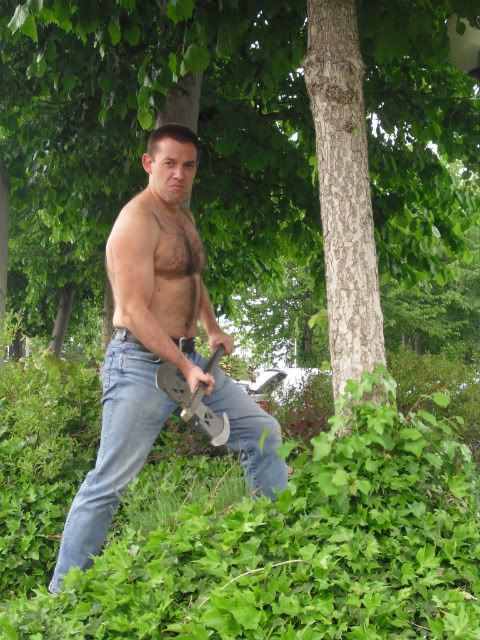 Your task is simple: Come up with the funniest possible caption for this image.
Once you have your answer, post it on this thread or send it to us by email at
competitions@jagex.com
. Please include the word
'caption'
in your subject header to help us spot your entry! If you are under 13, please ask a parent or guardian to email your entry to us on your behalf, from their contact email address.
You can enter as many captions as you like. We read every single entry, so you will have the same chance of winning whether you post here or submit by email.
Lastly, if you're entering by email, please remember to let us know your RuneScape account name! (Obviously this isn't a problem if you're posting on the forums.

)
The competition will close on
Friday 24 June
- so get your captions in as soon as you can. We will then go through all the entries and find the ones that get the best response from everyone here.
Although the main reason for this is to have fun, we will offer up a couple of prizes for the wittiest entries:
Winner
The winner will receive a complimentary 2 months' membership to RuneScape and a RuneScape mouse mat signed by Mark Gerhard and a selection of other J-Mods.
Awesome runner-up
The awesome runner up will receive one month's RuneScape membership.
Both winners will have their captions featured in the next newsletter.
So, good luck everyone - we can't wait to see your great ideas!
<!>
Useful Links...
02-Jun-2011 16:45:16 - Last edited on 03-Jun-2011 11:41:45 by Mod Jon H

May

2008
1)Who says I don't have the right kind of hatchet!?
2)This tree is no match for my 99 Woodcutting!
3)With this axe who needs a shirt!?
4)New equipment slot... Chest Hair!
5)H4k0r he's weilding it with two hands!
Those are mine...
03-Jun-2011 12:24:04 - Last edited on 03-Jun-2011 12:30:00 by Jacmusl
Quick find code: 254-255-91-62844955Back to Top