Original message details are unavailable.


Christmas Countdown Adventure!

.



Welcome, welcome,
nice to see you found your way to this year's

"Christmas Advent-ure 2018 Forum"

, where riddles, lost reindeer, entertainment and prizes await!

Check back every day in December until

Christmas day

and crack the puzzle of the day and get a chance to win an exciting reward by doing so. On Saturday and Sunday bigger loot awaits, so you only get one task over those two days.

And because December can be a busy month with visiting friends and family, going to dinners and parties and organising presents, we'll give you until

Wednesday, the 2nd of January,

to submit your final answers!



Please post only once per account, double entries will be ignored. The winners will be published in the forums and will also receive an inbox message from us, once the competition is over.



Now jump on it and discover where this

Advent-ure

leads you this festive season, yipeee!



1st & 2nd December




3rd December




4th December




5th December




6th December




7th December




8th & 9th December




10th December




11th December




12th December




13th December




14th December




15th & 16th December




17th December




18th December




19th December




20th December




21st December




22nd December




23rd December




24th December




25th December



All competitions are in accordance with our

Competition Terms and Conditions

.

Also, feel free to use this thread to wish all of your fellow 'Scapers a lovely Christmas and discuss your skilling plans for the upcoming month!

To a lovely December and a very

Merry Christmas!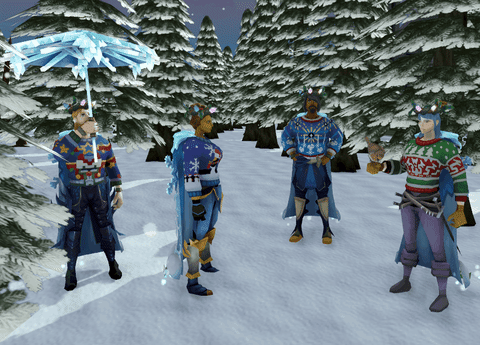 Mod Meadows and The RuneScape Team.
@JagexMeadows
~RuneScape Community Management.
~ Mod Meadows ~ Forum Curator ~ Tweet Me @JagexMeadows ~
22-Nov-2018 14:22:30 - Last edited on 30-Nov-2018 13:00:51 by Mod Meadows