Dev Blog: Halloween
All Hallows Eve is almost upon us again and, as usual for this time of year, Death is hosting his annual Halloween Party. The only issue is has an unwelcome guest that he just can't seem to rid himself of and he's not invited!
We will be polling the Halloween event described in this blog starting this Thursday.
Death & Anti-Santa
After failing to convince Gielinorians everywhere to abandon their Wintumber revelry for the sobering malaise of everyday life; Anti Santa sought out his old buddy the Grim Reaper, for a much needed dose of cynicism.
Grim was more than happy to trade a few discordant tales with the contrarian humbug at first, but the problem with these contentious, nihilistic types is; they never know when to leave!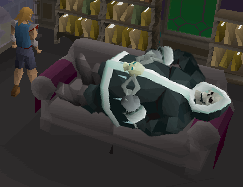 It's been ten months now since Anti-Santa parked his frosty backside on the Reaper's couch and he has just about had enough. Your task is to get Anti-Santa out of Death's mansion and out into the cold where he belongs.
Rewards
This year you will be able to unlock a number of new rewards from the Halloween event. You will be able to get your hands on:
Anti-Santa's new, comfortable attire (to be revealed during the event).

A pet tortured soul.

An invitation to Death's Halloween party.

A new, deathly wallkit for your player-owned house.

The Ash emote.

These two additional skin colours from the Makeover Mage:
Please note
: The pet tortured soul will be polled separately to the event.
As always, you will also be able to get your hands on all of the rewards from previous years if you haven't already. This includes:
Skeleton outfit.

Scythe.

Jack lantern mask.

Zombie head.

The Scared emote.

Black h'ween mask.

Grim reaper hood.

Pumpkins.

Red, blue and green h'ween masks.

An additional green skin colour from the Makover Mage.
Live stream events
As has become tradition with Old School and holidays, we will be hosting a number of community live stream events throughout the season of spooks. If you want to grab yourself some extra Halloween goodies, make sure that you watch out for our streams on the
RuneScape Twitch.tv channel
.
You can expect the return of the classic "hide and seek" streams, just like those that Mods Mat K and Ronan have previously hosted with great success, as well as any other enjoyable events you can think of. If you have any ideas for fun and engaging streams that we can host make sure to let us know. The more ideas we have the more streams we can do.
Mods Alfred, Archie, Ash, Ghost, Ian, John C, Kieren, Mat K, Maz, Ronan, Weath
The Old School Team

@JagexRonan
22-Sep-2015 17:55:56 - Last edited on 23-Sep-2015 11:38:21 by Mod Ronan