We can't wait to see you at RuneFest 2019 in October!

As you get ready for the big weekend, check out the Official RuneFest 2019 tees and hoodies now available to pre-order on Eventbrite! This year's explosive design is inspired by the majestic volcano that can be found on both Fossil Island and The Land Out of Time.

Pre-orders close at midnight on Sunday August 18th (GMT). People who purchase a ticket to RuneFest after this date will not be able to pre-order merch.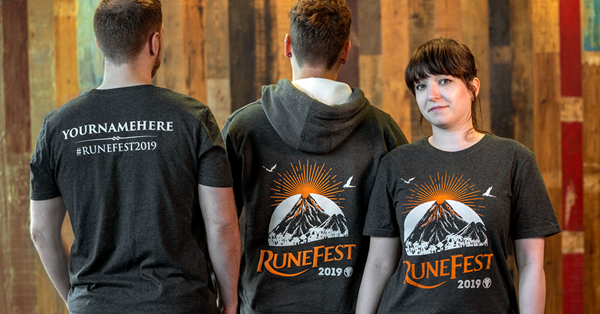 For detailed product descriptions, garment specs and care instructions, check out the Official Merch Section of the RuneFest App (available on iOS and Android).

Pre-ordering on Eventbrite saves you money on non-personalised tees (£2 off event RRP) and hoodies (£5 off event RRP). Pre-ordering is also the only way to get your tee personalised and guarantee a tee or hoodie in your size. XXS, XS and XXL and XXXL non-personalised tees are only available to pre-order.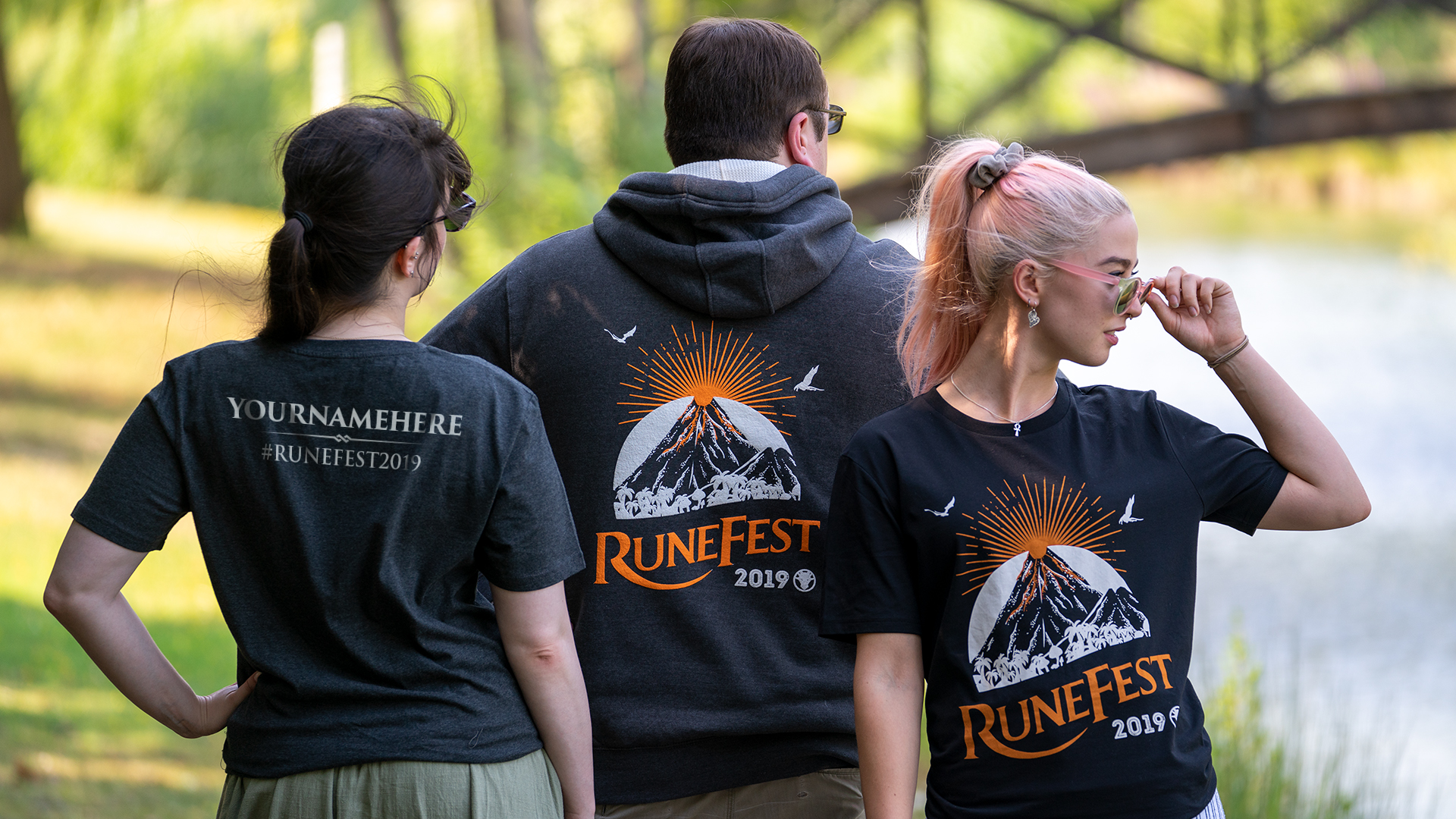 FAQs

How do I buy merch if I do not have my RuneFest ticket yet?

1) Go to http://runefest2019.eventbrite.co.uk
2) Click on green "Tickets" button and select "Individual" option or if you are part of a group attending or want to set up a group – select the "Group" option.
3) Fill out details for purchasing your entrance ticket in the check-out section
4) Add the merch from the Additional Items section at the bottom of the check-out page.
5) Once you complete the check-out process, you'll get an order confirmation email with the invoice you'll need to collect your merchandise at the event.

How do I buy merch if I already have a ticket?

• Check your inbox for an email from noreply@e.runescape.com containing a special promo code and instructions.

I can't see where to buy the merch on Eventbrite?

• The merch will be in the Additional Items section at the bottom of the checkout page.

Can I buy the official merch if I am not coming to RuneFest?

• Only people who have bought a ticket can order merch on Eventbrite. However, there is no limit on how many non-personalised tees or hoodies anyone with a ticket can order. So if you ask a friend who is attending nicely they may be able to order one for you…

Can I have any name on my tee?

• You should only enter your own 12 character in-game character name into the relevant field on the check-out page, exactly as you want it printed on the tee (longer names will be cut-off after 12 characters). All character names will be printed in capitals. Check the name carefully before you make a payment. You are able to log into Eventbrite and change the character name given after purchase, but we cannot guarantee that post-purchase changes will be reflected.

What if somebody else bought my ticket as part of a group – can I still pre-order merch/get a personalise tee?

• If whoever has bought your ticket has filled in your email details correctly, you will have received an email with a special promo code and instructions on purchasing merch. If you cannot find this email, please contact support@runefest.com with your name and ticket order number.

Can I have my order delivered to me at home?

• No – all orders have to be picked up from the merch store at RuneFest.

Do you have more sizing details?

• Garment widths (as per 2/1.5cm below the armpit) are as follows:

Hoodie Sizes:
S - 51cm/20 inches
M - 55cm/21.5 inches
L - 59cm/23 inches
XL - 63c/24.5 inches
2XL - 67cm/26 inches

Tee Sizes:
2XS - 43.5cm/17 inches
XS - 46cm/18 inches
S - 49cm/19.25 inches
M - 52cm/20.5 inches
L - 55 cm/21.5 inches
XL - 58cm/22.75 inches
2XL - 61cm/24 inches
3XL - 64cm/25 inches

Can I change my order at RuneFest if I have the wrong size?

• No – this is very unlikely as we will have limited stock at the event. The personalised tees are made to order so we will only have these with your name on in the size you ordered.

Can I cancel my order once placed?

• Not for personalised tees – these are made to order and cannot be cancelled or amended once paid for. For other orders, you can email support@runefest.com within 14 days or purchase with your order number and name to cancel your order and get a refund.
Community Manager! @JagexPoerkie
05-Aug-2019 12:05:16 - Last edited on 08-Aug-2019 12:58:18 by Mod Niku